Sedona, Arizona
These spectacular views of the Sedona, Arizona area were taken during a week vacation in March 2001. We were fortunate: we had nice weather - warm and sunny - plus, we had some snow! What an opportunity to capture some great photos!
The equipment used was my Canon Elan camera, using my various IS (image stabilization) lenses and my 17-35 mm wide angle. Film used was Kodak Royal Gold 100, and scanning was done by a Kodak PhotoCD film scanner.
Click on the thumbnail images below to see a larger version of the image.

Panorama SA1: Wilson Mountain Sunset
Copyright (c) 2003 by Eric C. Anderson
All Rights Reserved
The full-size image is 5800 x 2900 pixels - over 46 MB. This was taken using a tripod, since the light level was very low. One of the panorama images was out of focus, but fortunately, the overlap I used was sufficient, and I was able to discard the bad image. What was I doing, anyway? Sometimes it happens, and I have no idea. Stitched using PowerStitch.

Panorama SA2: Cathedral Rock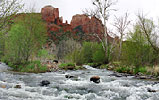 Copyright (c) 2003 by Eric C. Anderson
All Rights Reserved
This is a very famous location in Sedona, but I have never seen an image like this one in any travel magazine. It was a snowy day, no bright sun on red rocks. The color contrast, with early spring green against the subdued red rock is quite striking. The full-size image is 4800 x 3000 pixels - over 41 MB. This was taken hand-held using my 28-135 mm IS zoom lens. Snow was spitting at me, and the sky was clouded over. This image was taken using 3 portrait images, and stitched with PowerStitch.

Panorama SA3: Sedona Sunset

Copyright (c) 2003 by Eric C. Anderson
All Rights Reserved
This panorama was taken from the Sedona airport, a small mesa overlooking the Sedona area. The light was low, but I was able to capture the series of three 70mm focal length landscape photos handheld, using my 28-135mm IS (image stabilization) lens. As usual, Kodak Royal Gold 100 film was used. The fence in the foreground was removed by very careful high-magnification editing in Photoshop. The resolution of the image is 7200 x 2000, over 41 MB (lower resolution due to landscape rather than portrait captures), and was stitched with PowerStitch. Even with the lower resolution, individual cars and people are clearly visible in the full size image on the valley floor below. You can also see Thunder Mountain, as well as Wilson Mountain on the far left (see A1 above).

Panorama SA4: Oak Creek Snowstorm

Copyright (c) 2003 by Eric C. Anderson
All Rights Reserved
This panorama was taken from the balcony of a timeshare apartment in Oak Creek, showing Courthouse Butte in Munds Mountains, as well as Bell Rock on the left. We had gone to bed with warm summer weather, only to wake to snow! I quickly set up my tripod on the balcony, because I wanted to use my Sigma 70-300 mm lens for best sharpness, and it does not have image stabilization. This massive panorama was made from 12 portrait shots, using Kodak Royal Gold 400, and stitched using PowerStitch. The final image is over 3000 x 16000 pixels in size, with incredible detail. If printed at 300 dpi, the panorama would be 10" x 51" in size! Due to the extreme aspect ratio of this panorama, we only show the left portion in the larger version.