Lake Tahoe, Northern California
The spectacular views of Lake Tahoe's Emerald Bay was taken in mid-August, 1999. Emerald Bay is on the west side of the lake, the California side, and has several California state parks nearby. The image captured from above Incline Village, on Route 431 was captured in June 2003 on a Lake Tahoe weekend road trip.
The equipment used included my standard Canon EOS Elan camera with the Canon 28-135 mm IS (image stabilization) lens, at approximately 100 mm. I used Kodak Royal Gold 100, and took all of the images used to create the final image by hand (no tripod).
Click on the thumbnail images below to see a larger version of the image.

Panorama LT1: Emerald Bay, Lake Tahoe, Northern California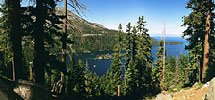 Copyright (c) 2003 by Eric C. Anderson
All Rights Reserved
On our way to visit the Lakes Basin for a week's vacation, we passed by Lake Tahoe, and got a chance to take this beautiful panorama. This was 6 shots taken in portrait orientation, and stitched with PowerStitch. The resulting image is about 7000 x 3000 pixels of raw beauty! This area has a wonderful state camping ground.

Panorama LT2: Lake Tahoe Incline Village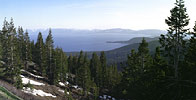 Copyright (c) 2003 by Eric C. Anderson
All Rights Reserved
This is the view of Lake Tahoe from route 431above Incline Village, coming down from Reno, NV. This was captured in June 2003 during a Lake Tahoe road trip with friends, around 4:00 PM. This was captured at 35 mm using my 28-135 mm Canon IS zoom lens. A total of six portrait images were stitched into one using PowerStitch. The final image is over 5700 x 2900 pixels, or more than 48 MB in size.