Bodie Ghost Town State Park, North East California
Bodie State Park is located between Mono Lake and Bridgeport, California, northeast of Yosemite National Park. It is accessed from route 395, the main north-south passageway in the eastern sierra mountains. The dry, desert climate has preserved this gold mining town quite well, and it is well worth visiting. My visit was in August 2000.
All panoramas taken in Bodie were with my Canon EOS Elan camera and Canon IS lenses or L-series lenses. Many were taken on tripod to eliminate distortion, and allowing both extreme resolution and accurate stitching.
Click on the thumbnail images below to see a larger version of the image.

Panorama BSP1: Weathered Wood and Metal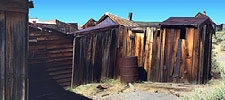 Copyright (c) 2003 by Eric C. Anderson
All Rights Reserved
The full image is over 6800 x 3000 pixels, or 59 MB in size, and the detail of wood grain and metalwork is amazing. This was captured with my L-series 17-35 mm zoom lens. Because of the super wide angle required, I had a real problem getting the stitching to work correctly. I was using PowerStitch for this image.

Panorama BSP2: Bodie Town!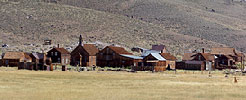 Copyright (c) 2003 by Eric C. Anderson
All Rights Reserved
This is a telephoto panorama of the entire town, taken from one of the approach roads. This is a cropped and resized version of the full size image of over 10800 x 2800 pixels - 88.9 MB in size! While you can't see it here, there are several people standing in the doorway of the church, and their single child sitting on the steps. This image has incredible detail of the buildings, and gives you a good idea of what the town looks like from afar.