Clear Light, Inc.
We have a musical treat for you in the right column. Yes, that's right! FREE MUSIC DOWNLOADS!
We will add the story of Clear Light here in the future. But for now, here is one of my favorite logos...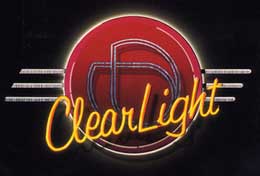 This logo was used on the booth as a neon sign, and on brochures, when we were running our most popular show, Starlight Fantasy.

Starlight Fantasy
Starlight Fantasy was a revolutionary multimedia extravaganza using 15 slide projectors overlapping to give a wide screen capability, but with all 15 projectors sharing the center portion of the screen. This technique allowed both wide screen animation, and high-speed animation in the center.
The show was created to demonstrate the introduction of the Star3 system, shown below: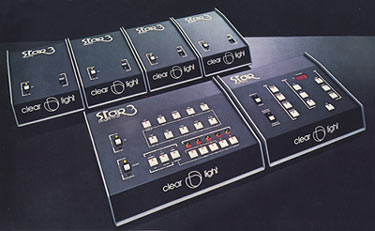 Star3 System Introduced 1978
The "3" of Star3 referred to the ability of each of the dissolve units (rear) to control 3 slide projectors, including elaborate animation, cross-fade, and overlapping animation modes - called "continuous dissolves" at the time. The unit in the front (left) is the programmer, with the memory unit on the right. This combination of 6 boxes plus one more dissolves used a multiprocessing network of 13 single-chip microcomputers to accomplish the unheard of task of controlling the projectors with a timing accuracy of 0.01 second. At the time, competitive units had a 0.05 second timing accuracy. This capability made it possible to do unprecedented animation effects.
In Starlight Fantasy, there are two sections where you hear a woman talking (see audio soundtrack download, right). During these passages, the center of the screen depicted the woman speaking - lip sync - essentially a movie, but with slide projectors. Around her were digitally generated animated light rays. This capability was a big hit - our booth was crowded the entire convention! It was the show to beat for several years following.
In those days, memory was EXPENSIVE! The memory unit allowed you a mere 1024 cues... this was 1024 24-bit memory locations, or about 3K of memory Nowadays, we are used to megabytes and gigabytes... What saved us was loops... I fondly remember Intel introducing the 256 bit dynamic memory chip (shows how old I am!).
Because I Am
One if the major efforts from the early days of Clear Light, when it was called Clear Light Productions, was to raise money to produce a large-screen, theater-quality multi-image musical evangelistic presentation. Enough money was raised to develop the electronic control systems - later sold as products to the A/V market, and to develop the soundtrack for the musical. A 33 rpm record and 45 rpm single were recorded and pressed. The theme song, Because I Am, was recorded by Turley Richards. The song was written by Turley Richards and Ronald Thomas, Copyright © 1973 by Clear Light Productions, then in Newton, MA. I have digitized the single for your listening pleasure, in MP3 format. While it is compressed, it is full CD quality, 128 kbs, so the file is pretty large. Click on the link below to play. In the future, I will upload the rest of the pieces from the LP. Enjoy!
Because I Am, Turley Richards, Ronald Thomas

If Your God Is So Great
Clear Light produced a show for Wycliffe Bible Translators, entitled If Your God Is So Great. The flip side of the 45 contained one of the pieces from this show, entitled Jesus Loves Me. This is recorded by Jim Thomas, and written by Warner and Bradbury. This is Copyright © 1975 by Clear Light Productions, Newton, MA. Also in MP3 format - enjoy!
Jesus Loves Me, Jim Richards (Warner & Bradbury)

Starlight Fantasy Soundtrack
The Starlight Fantasy show, created by John Sacrenty in 1978 using computer animation software (very new at that time) and some fancy studio techniques, was an incredible hit. The soundtrack ran on a 4-track recorder, where one track had the "clock track" to synchronize the system to the music. In those days, we were still running a mere 10 cues per second from tape - later upgraded to 50/sec with the Star Sentry Series Universal Controller (early 1982 - four years later), along with the Apple II-based SuperStar.
The MP3 file is large - over 9 MB, recorded at 160 kb/s. It was extracted off of an old cassette and digitally re-mastered by Anderson Creations. You can tell, if you have good ears, that it is from a tape, because of occasional drop-out, but the digital reprocessing has done wonders in recovering a lot of the excitement of the original soundtrack.
Tools used for this purpose include Blaze RipEditBurn, Blaze Media Convertor, Microsoft Plus analog recorder, and DFX, a digital signal processing audio enhancement package. The theme song really begins at about 4:20 into the 7:51 soundtrack. You can download it by clicking on the link below.
Starlight Fantasy Soundtrack, Clear Light, Inc.