Most digital cameras on the market today include components developed in the mind of a Gardnerville man.
Eric C. Anderson, 56, was recently named the Silicon Valley Intellectual Property Law Association Inventor of the Year for his prolific patented work in the digital field.
Anderson holds 86 issued patents, 54 with FlashPoint Technology and 32 with Apple Computer.
He says that he has about 150 filed with the patent office and about 40 are still pending, while the others have not made it through the process.
To him, inventing is not a process of creating out of thin air, but rather, a problem solving activity.
"I can't invent things in vacuum," Anderson said. "I can't sit in my office and say `Let me see, what needs to be invented today?"
"I need a group working on a project, feeding me the problems. Then, I think through the answers."
Anderson and his wife of 32 years, Sandy, moved to Gardnerville three months ago to get away from the fast-paced style of life in the Silicon Valley.
While working for Apple Computers, Anderson helped develop much of the audio and video processing technology used in the initial A/V Mac computers released in 1992.
After learning of his life-long interest in cameras, his bosses at Apple asked him to rescue a project from the early days of digital camera development.
"At that point, digital cameras were mostly toys," Anderson said with a laugh. "The technology was not so hot. I basically got dragged kicking and screaming from the computer engineering department to the camera and advanced technology group."
Anderson said that Apple had been at the forefront of digital cameras, but due to budget constrictions, the company decided to get out of that business.
After that, the development project spun out to a startup company in 1996.
The new company, FlashPoint Technology, began licensing Anderson's portfolio of patents to Kodak, Hewlett Packard, Minolta, Epson, Canon, Panasonic and Nikon to create a number of cameras and photo printers.
Anderson said most of his inventions involve below-the-surface programming, like a program that allows the image to be seen on the
LCD display in the back of the camera rapidly, or the system that numbers the image files as the pictures are taken.
He said that the most significant technology he developed will not be implemented for several more years.
The technology allows the digital camera to be used as a piece of software, rather than hardware.
In the coming years, a business, like a newspaper, will be able to use its Web site to send messages to the camera, directing the photographer to take certain pictures.
In return, the photographer would be able to instantly send the images from the shooting location to the Web site server, where the editor of the paper can review the pictures before the photographer leaves the location.
Along with his work with digital cameras, Anderson has also been developing technologies to assist in electronic learning, or education courses taught over cable or Internet lines.
Anderson said his inventing
process usually starts with being presented with a problem.
He said he then goes into his office to pray about the problem and think it over. He then sleeps on it and waits for the answer to come to him.
"Prayer has been a really large part of my invention process," he said. "My view is that God is the greatest inventor of all, so I know that he knows the answers to all the engineering problems.
"Prayer works, not just for invention but in any area," he said. "A lot of inventions you kind of develop in your mind over time, but other ones come out of the blue, and that is really God giving me some ideas."
Anderson met his wife while photographing a wedding in Boston when he was a graduate student at MIT.
"It just seems like every day he walks out of that office and says, `Well, today I found a new way to do...' whatever, just fill in the blank," she said.
Anderson said he has been interested in photography and electronics since he was in high school.
But, he said, he prefers using his 35mm camera to his digital camera for taking panoramic portraiture around the country. He only uses his digital camera for family shots.
Anderson now runs his company, Anderson Creations, from his home in Gardnerville. He helps companies write patents, build Web sites and develop various technologies.
His photography can be viewed on his Web site at www.21ive4.com.

Joey Crandall can be e-mailed at jcrandall©recordcourier.com or reached at 775-782-5121, ext. 212.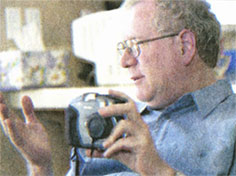 SHANNON LITZ/The R-C
Digital revolutionary: Eric Anderson holds a digital camera and talks about some of the inventions that he developed for the camera, which helped earn him recognition as Inventor of the Year.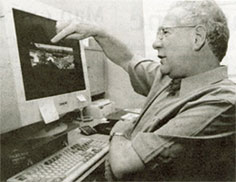 SHANNON LITZ/The R-C
Originator: Eric Anderson shows his Web site and some panoramic photographs he has put together.